New book Release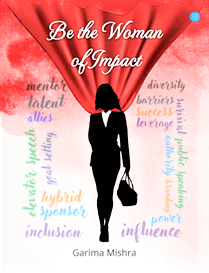 SSBM Geneva DBA student and author Garima Mishra has released a new and exciting book titled Be the Woman of Impact. The book is a self management book for women and can be used by men as well. This book discusses the current status of diversity and the future opportunity for the diverse workforce. It presents tools to identify the barriers, set goals and track the progress . It talks about the importance of mentorship, sponsorship and Allies. Moreover the book is rich with management processes, models and tools to help you understand the top barrier on your path to success, manage your finances and emotional self effectively. This book not only touches upon topics like gas lighting and tells you how to identify one and handle it, but it also shows you the modern and effective ways of brand building and presenting yourself for your success.
Here is a blurb from the author. "In the late 1990s and early 2000s, women's employment representation reached a peak in the economy. This hasn't grown since then. We lack women in all layers of the workforce in equal numbers as men. Fortune 500 businesses have 40 women CEOs, but that represents only 8 percent of all CEOs. If things continue as they are, it will take 108 years to achieve the needed level of diversity. Data and research have shown that companies benefit from diversity and inclusion in the marketplace. Being inclusive and encouraging a diverse workplace are becoming more important.
Business leaders that value diversity is now more prevalent than ever before, with a 32% increase since 2014. Most companies want a diversified staff by 2030 when that percentage is predicted to reach over 40%. Women with talent in the workforce have a wide variety of opportunities and a bright future. To assist women to overcome obstacles and create objectives, the book covers essential business process concepts. Throughout the book, you'll learn how to use numerous approaches to detect various variables in branding, personal growth, and forming alliances, as well as how to use leveraging and public speaking effectively. This book is designed with information you'll need to succeed as an impactful influence."
The book can be found on amazon here and also on kindle as well as in form of an e-book.
More about the author:
Garima Misha has close to two decades of impactful contribution at the highest level of technological challenges, and has have been leading global teams and functions to offer solutions to complex problems. Garima has been a champion of innovation through collaboration. Garima has been researching topics related to diversity and inclusion from Business Management scope and Data Centric approach from computer science point of view. Garima Mish is the proud recipient of honorary doctorates-Humanity from a recognized university in United States, Business Administration recognized by Ministry of External Affairs India and Doctorate in Technology from a well known university in UK. Received award for the research work from University in Australia.