About Instructor: Pierre Matek, PhD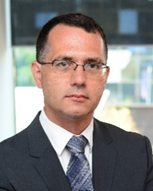 After graduating in Finance at the Faculty of Economics in Zagreb, Croatia, in 1996, Pierre Matek received his master's degree in International Finance at the Université Louis Pasteur in Strasbourg, France in 1997 and his Ph.D. in Law at the European Faculty of Law in Nova Gorica, Slovenia in 2018. He also earned the right to use the CFA and CIPM designations granted by CFA Institute,
Pierre Matek started his career as foreign exchange reserves portfolio manager at the Croatian National Bank in 1998. Between 2000 and 2012 he assumed a series of roles in Zagrebačka banka, Unicredit Group, and its investment fund management company ZB Invest. His responsibilities included managing portfolios, risk management, portfolio performance analysis, developing new products and developing distribution channels. From 2012 to 2018 Pierre Matek was President of the Croatian Financial Services Supervisory Agency (HANFA) and member of the Management Board of ESMA and EIOPA. From 2019 he is management board member at the alternative investment fund management company Feelsgood Capital Partners in Zagreb, Croatia. His research interests include venture capital, capital markets, financial regulation and pension schemes.