This week Prof. Benoît Pasquier LL.M. held the Professional Football Leagues & the EL – Mission, Structure and Main activities. Students learned many new skills and got a great insight into the difference between the European League of Football and the Professional Football Leagues based in the U.S. Their general activities as well as mission and structure were compared and discussed. Prof. Benoît Pasquier has many years of experience in this field and students were able to take advantage of this.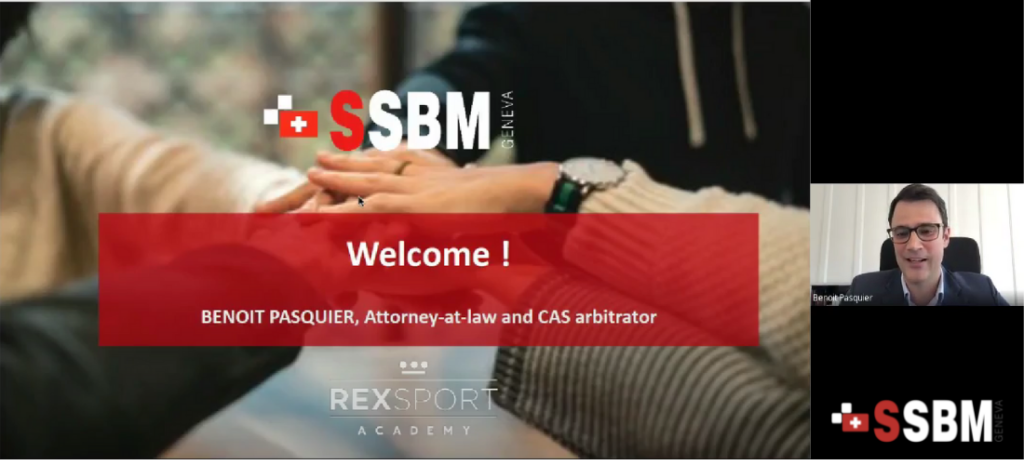 Prof. Pasquier is a Swiss attorney at law and an arbitrator at the Court of Arbitration for Sport. He holds a Master in International Sports Law (LL.M.). Before founding his law firm in May 2020, he served as General Counsel and Director of Legal Affairs of the Asian Football Confederation (AFC) in Kuala Lumpur (Malaysia) for nearly seven years. Before joining the AFC in 2013, Benoît worked at FIFA as Deputy Secretary of the FIFA Disciplinary Committee and of the FIFA Ethics Committee. In 2017, his achievements were recognized at the "Leaders in Sport Under 40 Awards" in London for the category "Legal & Governance".
For more information about the Masters in International Sports Law please click here.