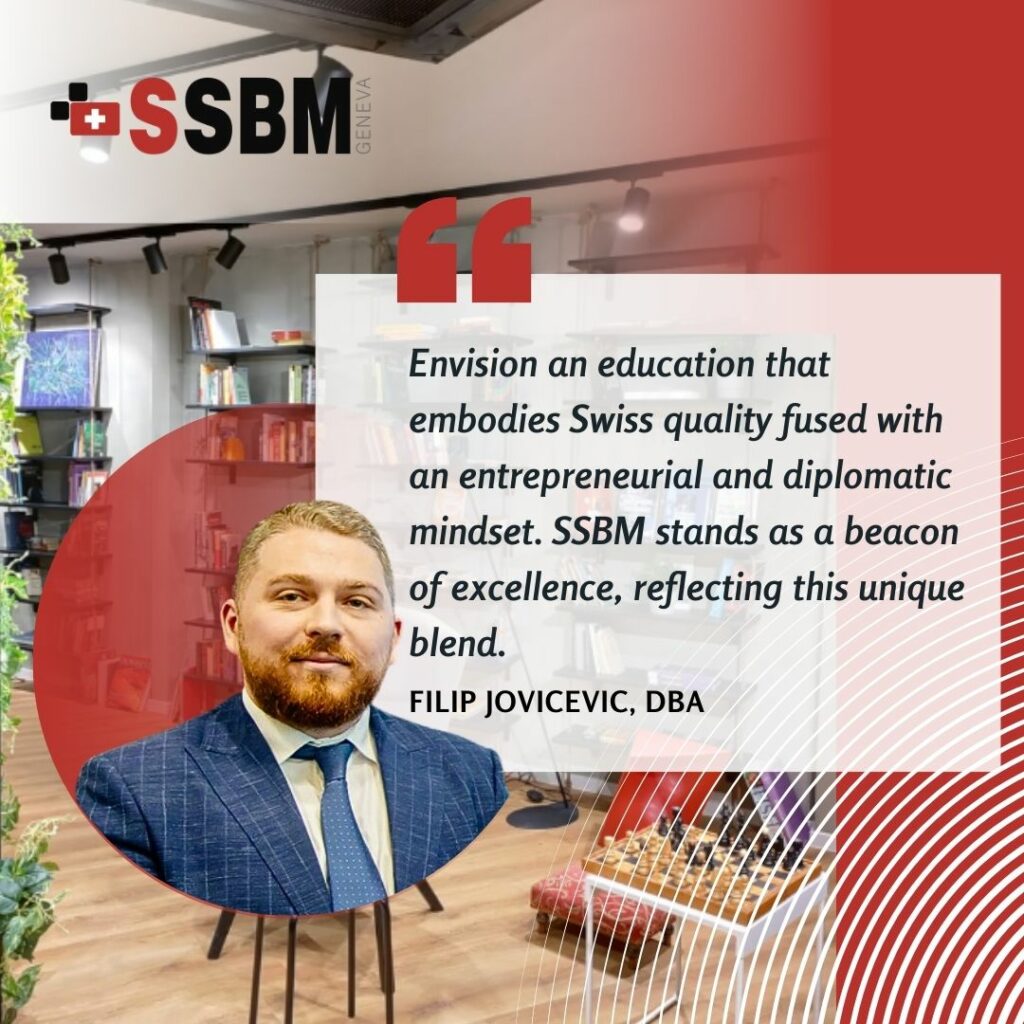 Meet Filip Jovicevic, a remarkable individual who is not only excelling in his pursuit of a Doctorate in Business Administration (DBA) at the Swiss School of Business and Management Geneva but is also a trailblazer in the world of space exploration. Filip's unique journey is a testament to his unwavering commitment to both academic excellence and groundbreaking scientific endeavors.
1. Why did you choose to study your DBA at SSBM Geneva?
Having completed my MBA in the city of Geneva, where my professional voyage officially commenced, I felt a deep affinity for this international hub of business activities. The allure of Geneva's global prominence was undeniable. My connection to SSBM, established in 2021 during my initial exploration of DBA options, was characterized by a sense of mutual understanding. Delving deeper into the institution's offerings, I was captivated by its sterling reputation and vast academic resources. The added privilege of being awarded a scholarship further underscored the university's genuine commitment to the welfare of its students. Notably, the excellent online platform offered by SSBM provided me with a unique opportunity to work internationally while staying closely connected to Geneva and the university. This amalgamation of factors played a pivotal role in the defining decision to choose SSBM as the crowning achievement of my educational odyssey.
2. What was your dissertation topic?
In the realm of academic exploration, my dissertation embarked on a profound journey: "Investigating the role of space entrepreneurship in achieving Sustainable Development Goals." As an individual at the forefront of space research in the Western Balkans, this topic was more than an academic pursuit; it was a testament to my dedication to the impactful work I am engaged in.
3. How did SSBM's academic program and faculty support your pursuit of a career in space exploration and technology development?
The administration's meticulous approach to mentorship proved to be particularly significant. Their commitment to providing personalized guidance was evident in the careful selection of a mentor for my thesis. Through this process, I had the privilege of being introduced to Dr. Ljiljana Kukec, an outstanding mentor renowned for her involvement in franchise development and advanced technologies.
Furthermore, SSBM's extensive network and affiliations within the realms of academia and business provided an environment rich with opportunities for potential collaborations and industry partnerships.
4. As a space program initiator, collaboration and innovation are key. Can you highlight any instances or projects at SSBM that encouraged these skills and prepared you for your role?
SSBM is like a fortress that fuels creative thinking and an entrepreneurial drive. They're all about encouraging students to dive into unexplored waters, taking on real-world challenges with imaginative fixes. One big lesson I've learned is that letting students tap into their creativity and giving them the space to think big is a key to success.
5. If you were to recommend SSBM to aspiring students looking to excel in their careers, what would be your key selling points or advice based on your own experiences?
Envision an education that embodies Swiss quality fused with an entrepreneurial and diplomatic mindset. SSBM stands as a beacon of excellence, reflecting this unique blend. Its online platform is a gateway to accessible knowledge, supported by faculty who are not just educators but dedicated allies on your journey. SSBM feels like home, where the cornerstones of a remarkable life and career are meticulously laid. My advice to aspiring students: Embrace SSBM's opportunities, infuse yourself with Swiss precision and innovation, and launch your career journey right here.