Invest in Your Future: Bachelor's Degrees for 185 EUR/Month!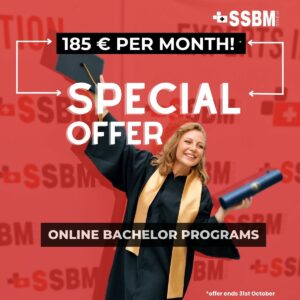 We are delighted to announce the launch of the "Online Bachelor Month," offering prospective students a unique opportunity to pursue their dreams of higher education with unprecedented benefits. This limited-time offer (2.10.2023 – 31.10.2023) provides a 15% discount on online bachelor programs, making quality education more accessible than ever.
Students can enroll in any of our accredited online bachelor programs and enjoy a 15% discount. This offer significantly reduces the tuition fee to just 8,925 EUR, opening doors to a world-class education at an affordable cost.

Special Online Bachelor Month Payment Plan
SSBM Geneva understands the financial challenges many students face, which is why we're introducing a flexible payment plan option. During the "Online Bachelor Month" period, students will have the unique opportunity to opt for a 48-month (4 years) payment plan, making education even more budget-friendly. This means that you can embark on your academic journey for as low as 185 EUR per month.
This limited-time offer is set to transform the landscape of online education, making it more affordable and accessible to a broader audience. Don't miss out on this opportunity to advance your career, gain valuable knowledge, and secure your future.