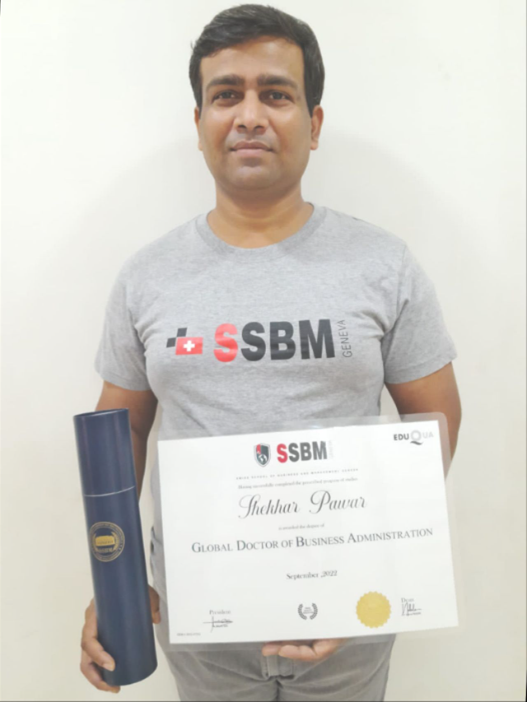 It is a great accomplished to hear when our students successfully graduate from their program. It takes a lot of hard work, dedication and determination to complete any study, particularly a DBA Program! Read below what our now alumnus Dr. Shekhar Pawar had to say about his experience. We wish you all the best in your future endeavors!
"I am delighted to share that I have graduated with a DBA from the Swiss School of Business and Management, Geneva, Switzerland. The learning of this Global DBA was an extensive experience to tackle unresolved cybersecurity implementation issues, especially for small and medium enterprises (SME segment). The journey was also to contribute in a systematic way towards the success of and improve protection against cyber threats for the enterprises contributing to the global economy while developing academic knowledge.
With a DBA from SSBM Geneva, I have gained a lot of knowledge, skills, and opportunities to interact with leaders of hundreds of organisations from many countries. As a research scholar from SSBM, I also got an opportunity to publish a research paper in Elsevier's JJIMEI international journal, participate in three international conferences as a speaker, and write a chapter for an upcoming research book in the UK, and tentatively my research will be published in a few other journals in the coming months.
I would like to express my deep gratitude towards all the professors, the admission team, and the entire team of SSBM working backstage for the success of each student."