Cybersecurity management guides a growing number of IT decisions. IT risks continue to have critical impact on overall IT risk modeling, assessment and mitigation.
In this certificate program you will learn about the general information security risk management framework and its practices and how to identify and model information security risks and apply both qualitative and quantitative risk assessment methods. Understanding this framework will enable you to articulate the business consequences of identified information security risks. These skills are essential for any successful information security professional.
The goal of this certificate program is to teach your the risk management framework with both qualitative and quantitative assessment method.
During the certificate program variety of teaching methods will be used: from basic explanations of terms and concepts, exercises, working on case studies, individual work in finding the application of the presented knowledge and group/team work on the project.
Beyond mere description of theoretical lectures, the emphasis will be on the following course goals:
Explain the information security risk management framework and methodologies
Identify and model information security risks
Use qualitative and quantitative risk assessment methods
Articulate information security risks as business consequences.
The certificate program is delivered in cooperation with the Faculty of Economics & Business, University of Zagreb, Croatia that is a publicly recognized and accredited university with a double world-known accreditations AACSB and EPAS.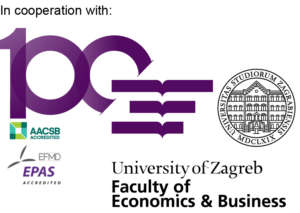 The Association to Advance Collegiate Schools of Business (AACSB) accreditation is known worldwide as the most highly esteemed form of accreditation an institution and its business programmes can earn. AACSB's mission is to foster engagement, accelerate innovation, and amplify impact in business education. AACSB Accreditation is the benchmark of quality worldwide and most widely sought after by business schools—less than 5% worldwide have earned the achievement.