Duration 4-6 weeks           Language English         Skill level Beginner
 Lectures 23                           Certificate Yes               Full Lifetime access 
The goal of this certificate program is to explore basic and advanced concepts of project management. Effective management of projects ensures that they are completed on time, within budget and are of high quality. The aim of the certificate program is to familiarize students with techniques needed to achieve these three goals. Basic topics and segments of project management that students will address in this course are: quality of an effective project manager, typical responsibilities of the project manager and project selection, preparation of the detailed work schedule and budget, creating a project team, management, quality control of the project; risk management and more.
During the certificate program variety of teaching methods will be used: from basic explanations of terms and concepts, exercises, working on case studies, individual work in finding the application of the presented knowledge and group/team work on the project.
Beyond mere description of theoretical lectures, the emphasis will be on practical work, where students will plan and manage a project that will result in a capstone project.
The certificate program is delivered in cooperation with the Faculty of Economics & Business, University of Zagreb, Croatia that is a publicly recognized and accredited university with a double world-known accreditations AACSB and EPAS.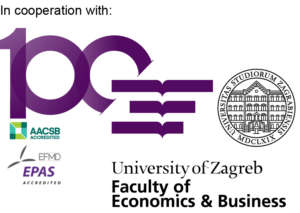 The Association to Advance Collegiate Schools of Business (AACSB) accreditation is known worldwide as the most highly esteemed form of accreditation an institution and its business programmes can earn. AACSB's mission is to foster engagement, accelerate innovation, and amplify impact in business education. AACSB Accreditation is the benchmark of quality worldwide and most widely sought after by business schools—less than 5% worldwide have earned the achievement.