Our Diploma in International Business & Strategy prepares you for work in the business environment as it introduces you to the core disciplines of the modern workplace.This course is designed for managers operating at a strategic level in the workplace. This diploma will bring you 15 ECTS credits.
This online course will develop your strategic management and leadership skills and how to implement these models into your organisation's strategy on the global and local levels.
The focus of the Diploma in International Business & Strategy is on the key areas of business management, leadership and strategy.
Within the curriculum, you will be introduced to business subject areas such as strategic risk management, financial management, and business strategy. Because of our unique teaching and learning approaches, you will also start developing essential skills for the world of work, such as effective problem solving, critical thinking, working in teams and communicating effectively.This course will provide you the opportunity to develop your strategic management skills and apply these procedures and practices to managing at a strategic level in the workplace.
The course will be taught using a combination of examples, discussion questions, cases and homework problems. 
The program is delivered in cooperation with the Faculty of Economics & Business, University of Zagreb, Croatia that is a publicly recognized and accredited university with a double world-known accreditations AACSB and EPAS.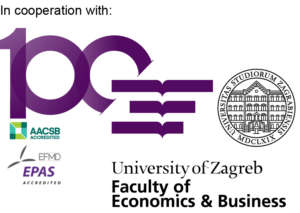 The Association to Advance Collegiate Schools of Business (AACSB) accreditation is known worldwide as the most highly esteemed form of accreditation an institution and its business programmes can earn. AACSB's mission is to foster engagement, accelerate innovation, and amplify impact in business education. AACSB Accreditation is the benchmark of quality worldwide and most widely sought after by business schools—less than 5% worldwide have earned the achievement.