Duration 4-6 weeks               Language English         Skill level Medium
 Lectures 5                                 Certificate Yes               Full Lifetime access 
Media Training Professional Certificate program is designed to provide you with a complete overview of relations with media practices. Students will gain the capacity for the adaptation which is necessary for doing business in the global environment.
Special emphasis is given to building confidence as well as gaining control when working with various media outlets. In addition, it is designed for individuals who need to get ready for speaker or public figure roles as well as it is suitable for all working professionals.
You will be able to respond to rapid changes in the media industry and position your practice of organization right. Additionally, you will acquire excellent communications skills with media.
Beyond mere description of theoretical lectures, the emphasis will be on the following course goals:
Learn how to prepare, control, and conduct various media interviews
Learn to look and sound confident and credible on camera and communicate effectively to the media.
Learn practical media interaction techniques used by top executives, global leaders, and politicians
Understand the world of media and journalism and what drives them to get the best outcomes
Learn how to develop your messages and stories
Gain an understanding of the power of your body language during media interviews and how it can help you to ensure a great media interview
Learn how to dress appropriately for interviews
Understand what are the best rehearsal techniques
Practice your media techniques
Learn how to remember your messages and questions and answers
Learn how to dress appropriately for interviews
The certificate program is delivered in cooperation with the Faculty of Economics & Business, University of Zagreb, Croatia that is a publicly recognized and accredited university with a double world-known accreditations AACSB and EPAS.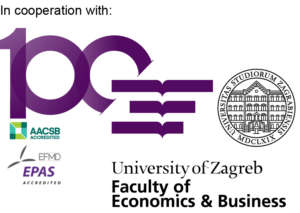 The Association to Advance Collegiate Schools of Business (AACSB) accreditation is known worldwide as the most highly esteemed form of accreditation an institution and its business programmes can earn. AACSB's mission is to foster engagement, accelerate innovation, and amplify impact in business education. AACSB Accreditation is the benchmark of quality worldwide and most widely sought after by business schools—less than 5% worldwide have earned the achievement.