SSBM professor Dario Silic, PhD welcomed the Prime Minister of Croatia Mr Plenkovic, Vice Prime Minister and Minister of transport Mr Butkovic, Minister of Economy Mr Filipovic and Minister of health Mr Beros on the construction site of doubling Ucka tunnel of 5.6 km.
Prof Silic through his corporate activities in Bina Istra, as Concessionaire, explained the specificities and challenges of this Toll Road PPP in Croatia, a 145km highway concession owned by the Republic of Croatia, with EUR 921.3m of debt financing for the expansion of the motorway. The novelty of this big infrastructure deal is firstly in the raising of almost 1 billion of euros during Covid 19. Secondly, in the long term loan maturity going up to 17 years with corporate guarantees.
On top of the  Covid 19 negative impacts, the company was faced with a tight time schedule to close the deal. The construction risks, especially linked to geological risks in the tunnel Učka of 5.6 km, have been considered as well as construction works under traffic on existing motorway sections.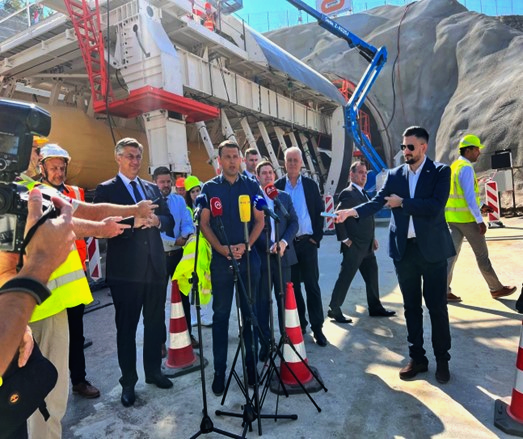 Prof Silic explained to the Prime Minister and to other 3 Croatian Ministers that construction works are progressing well, a progress of 1.3 km on Istrian side and 1.1 km on Kvarner side. The daily progress, using liquid explosives (blast and drill method), is up to 20 meters per day depending on geology. Every 250 meters the cross passages between 2 tubes will be done, 24 of them out of which 12 for passengers and 12 for vehicles. Completely new equipment will be utilised starting from autumn 2023 when the tube should be completed and then 12 months for testing is to be done with an opening date by June 2024 for time being.
The Prime Minister and other Ministers congratulated prof Silic Dario and his team for a job well done and very good organization of the construction site citing very innovative technologies in a very challenging period of Covid 19 and huge inflation pressures. Another big challenge of this phase of construction is a strong presence of Karsts (bad geology), which can delay works and increase the costs of construction.
Alongside the Prime Minister, Prof Silic announced to the media the plan of a new phase of construction of Matulji Ucka section and of 2 viaducts Mirna and Limska draga of 2 km together amounting an amount of 175 million euros. The reason behind the project is that once completed it will improve overall safety (compliance with EU directive from 2004 on safety of long tunnels in EU), create road standard homogeneity across the Croatian motorway network and accommodate the significant traffic increase to and from EU countries.
The Project of Phase 2B21 includes expansion work parallel to the existing stretch of a 2-lane motorway from Vranja to Učka. Altogether, over the last 3 years Bina Istra have launched the investments in amount of cca 400 million of euros from Pazin to Ucka tunnel (cca 36 km) with French construction group Bouygues TP as main contractor and huge number of Croatian subcontractors with a total of cca 500 employees involved on the Project.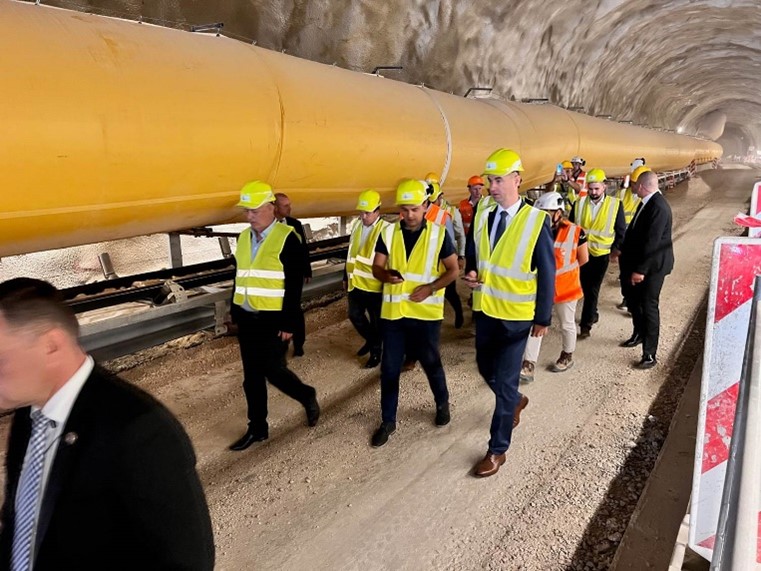 The construction work started in December 2020 and the estimated duration of works on Sub-phase 2B2-1 is 42 months, so the completion of construction is expected by mid-2024.
The construction of Sub-Phase 2B2-1 is expected to bring a number of key benefits to the citizens and users of the Istrian Y Project including meeting the highest road tunnel safety standards, increasing traffic safety, higher traffic flow, shortening travel times, improving environmental protection, upgrading the comprehensive Trans-European transport network ("TEN-T"), which appropriately connects Istria with the rest of the Republic of Croatia, improves economic and social cohesion and achieves significant economic benefits. This is specially important considering the impact of the Istrian Y Project on the arrival of tourists since over 90% of tourists come to Istria by car using the Istrian Y and that Istria contributes almost 30% in tourism in the Republic of Croatia.