We are happy to announce that the Swiss School of Business and Management (SSBM) partnered up with M-Gibes College of Business and Management (MGCBM) in order to organize an Executive Master Leadership Program that will take place in Geneva, Switzerland from the 3rd-9th of November 2019.
Executive Master Leadership Program in Geneva
The vibrant city of Geneva is the home to Europe's United Nations and Red Cross headquarters as well as it is internationally known for banking and diplomacy. Above all, Geneva is surrounded by mesmerizing views of Mont Blanc and Lac Léman (or Lake Geneva), so it's the perfect location for both learning and sightseeing.
The Executive Master Leadership Program

lasts for six days,
including four days of lectures and
two days of an organized fun tour for the participants.

We always strive to provide unique and innovative programs, therefore, our collaboration with M-Gibes will encourage participants to be creative and think critically during all lectures in order to improve their knowledge and skills as well as to enhance their professional development.
The Executive Master Leadership Program is designed to offer and deliver premium educational content that is essential for today's competitive business environment. The aim is to stimulate and inspire our participants to advance their career and ignite new knowledge. It is also the perfect occasion to meet new people from all around the world and to gain new connections and networking, that could potentially lead to new opportunities and future business collaborations.
The four days of lectures will be based on:
Project Management
Strategic Management
Strategic Human Resources & Organizational Behaviour
Strategic Financial Management and Strategic Marketing
These lectures will give you a detailed insight and knowledge into different topics that are crucial for any successful business.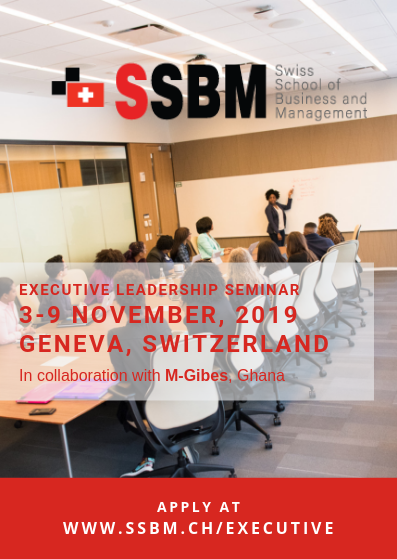 Price & Details of the trip
Regarding the details of the trip, we created a package in partnership with M-Gibes, which includes:
A return ticket Ghana-Switzerland
Schengen-Visa
Five-star accommodation with bed & breakfast
A tour around Switzerland and France
Lunch & dinner
4 days of lectures
The total cost is £5,000.

Most importantly, the program is delivered and awarded by us, Swiss School of Business and Management and each participant will receive a credit bearing certificate at the end of the Executive Leadership Program. This program is of great importance for any individual that is ready to take their career to a new level as well as to broaden their perspective and educate themselves in one of the countries known for delivering educational excellence as well as the guarantee of Swiss Quality Education in partnership with M-Gibes College of Business and Management.
APPLY
You can apply by filling and submitting the below form.